I recently came across
Smart and Trendy Moms
and their "It's a Social Parade". It seems like a great way to meet new people and gain followers/fans/friends, so I decided to join in the fun!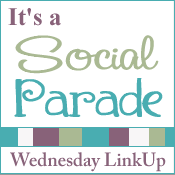 Here's more info about it and how it works:
It's a Social Parade
- Wednesday Link-up is a weekly link-up hosted by Smart and Trendy Moms. We created it for socializing and to get new followers, fans, subscribers, readers without feeling overwhelmed. Every week will be a new link-up that will focus on one of the ways you connect with people through your blog! We will rotate through gaining followers, fans, Networked blogs and more. Link-up and focus on one thing at a time. Its about fun one follower,fan and reader at a time!
And don't worry you do not have to carry this button or any button of ours on your side bars. Your blog sidebars are great real estate and we respect that : ) The button needs to be posted in your participation post only.
This week is Fan-Page Round Up. I'd love it if you would become a
Fan (or like) of A Mom's Balancing Act on Facebook
if you're not already. :) This is where I update fans on the latest info/giveaways going on here at A Mom's Balancing Act.