For those who enjoy making new friends, finding new blogs and gaining new followers...you definitely should check out Friendly Friday and Friday Follow! You can learn more, and link up to join in the fun, by visiting the three great sites who are hosting Friendly Friday: Xenia @ Thanks, Mail Carrier, Christi @ The Frugal Novice, and Charla @ Healthy Home Blog and the three sites who are hosting Friday Follow: Stephanie at Babes Rockin Mami, Michelle at Mommy Loves Stilettos, and Laura at Vodka Logic.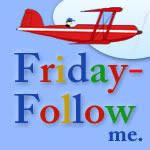 Also, thanks so much for visiting A Mom's Balancing Act ! Whether you're a new follower or have been for quite some time, leave me a comment and let me know. I'd love to come follow you and visit all of your sites as well! :)
Be sure to stick around and check out all of my current giveaways. There are two ending Monday that you don't want to miss!
And...several others you'll want to check out too!