As life gets more busy, I find I become less organized....especially when it comes to preparing meals. I'm often trying to decide what to make at the last minute and usually end up making the same old things week after week. I came to the realization that I needed a better way to plan meals...something I can do on my own time and not last minute when I'm feeling pressured and stressed! That's why I was absolutely thrilled when I came across Jane Doiron's cookbook, Make-Ahead Meals For Busy Moms!

As a busy mom of two boys and an elementary school teacher, Jane Doiron can relate to feeling stressed and pressured to make delicious meals for her family. Wanting to make family-favorite recipes that could be made ahead of time without sacrificing the food's taste and texture by freezing was her goal, and after years of recipe experimentation and experience...the Make-Ahead Meals for Busy Moms cookbook was born! It includes 140 yummy recipes that can be prepared in advance, as well as lots of tips on freezing meals and making meals ahead of time.


I couldn't have been more excited to learn of this cookbook and find out that I was going to have the chance to review it! I was in desperate need of a change when it came to my approach to meal planning, and was hoping Make-Ahead Meals for Busy Moms was the answer I had been looking for!

When it arrived on our doorstep I couldn't wait to check it out and start planning delicious meals. What I thought would just be a culmination of several recipes ended up being much more than that and surpassing any expectations I had! There are recipes, tips, and detailed info about preparation, freezing instructions and more!

Upon opening it, I was already impressed! Many cookbooks I've used in the past have been unorganized and include recipes that are not easy to follow. Make-Ahead Meals for Busy Moms was not like this at all! Everything from the tips to the recipes is laid out in such a user-friendly way and extremely simple to understand and follow! I wasn't sure what types of recipes would be included, but was pleased to see that most are ones my family would enjoy eating over and over again! There is such a nice variety and something for everyone's taste. Whether you're looking for a main dish, a side, a brunch or a dessert...this cookbook has it all!

I couldn't wait to try out some of the recipes, and over the past couple of months have had the chance to make many of them! I love that there are more traditional choices like lasagna and tacos, as well as some unique ones like Teriyaki Chicken and Thai Chicken Thighs. A couple of our favorites would have to be the Mini Meatloaves and the Meatballs and Gravy in the Crock-Pot (sorry I should have taken some pics to post...I don't know what I was thinking?!)! All I can say is, YUM! Every recipe that I made was so simple to follow and make. The best part though, was that they were delicious and easy to make ahead of time! She even includes make ahead instructions, cooking instructions and freezing instructions....how great is that?! I am now able to make meals my family loves without feeling pressured to prepare them last minute. I can see this coming in handy when I have meals to make for family gatherings, church functions, etc. It's truly a must-have in my opinion...and I can't believe I went so long without it! The only thing it could use is some pictures (like the delicious looking one on the front cover) since I am more of a visual person when it comes to trying out new recipes.

I love having the chance to try new recipes, especially when they are easy to make, don't take much time and can be prepared ahead of time! This cookbook is exactly what I have been looking for and needing for a long time and I am so thankful to have found it. I would highly recommend this book to anyone, especially busy moms who find it difficult to stay organized and find the best approach to meal planning. The variety of yummy make-ahead recipes and helpful tips makes this cookbook a great Mother's Day gift idea and a great addition to any recipe collection!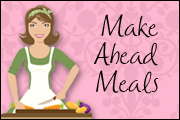 I would also encourage you to check out
Jane's blog
and subscribe for even more great make-ahead recipes! I love visiting and taking note of other delicious recipes....and love that there are pictures of some of them too!
Buy It:
You can purchase Jane Doiron's Make-Ahead Meals For Busy Moms on
Amazon
and
Barnes and Noble
for $16.15.
Win It:
One very lucky reader is going to win their very own copy of Make-Ahead Meals For Busy Moms!
Extra Entries:
(only valid after the required entry has been completed)
1. For TWO extra entries, subscribe to A Mom's Balancing Act via e-mail (easily found along the side column). Be sure to leave TWO comments so that both entries can be counted.
2. For FIVE extra entries, blog about this giveaway (linking to this post and
Make-Ahead Meals For Busy Moms
) and leave me FIVE comments with the URL to that post.
3. Post my blog button or blog URL to your blog and leave a comment with the URL to your blog. (If it already is, leave me a comment letting me know)
4. Post the
Make-Ahead Meals For Busy Moms blog button
to your blog and leave a comment with the URL to your blog.
5. For THREE extra entries, Grab my 'Celebrating Moms' event button and leave a comment with the URL where it can be found.
6. For TWO extra entries,
Follow me on Twitter
and tweet about this giveaway (Tweet once a day for an extra entry every day)! You can copy and paste:
Celebrating Moms #11: Win a copy of the Make-Ahead Meals For Busy Moms Cookbook @MomBalancingAct http://tinyurl.com/y2qqv6j Ends 4/29 RT PLS
7. Become a
Fan of A Mom's Balancing Act on Facebook
8. Share about this giveaway on Facebook
Share
9. Sign up to receive the
Make-Ahead Meals For Busy Moms Newsletter
10. Follow my blog publicly on Google Friend Connect
11.
Follow the Make-Ahead Meals For Busy Moms blog
publicly on Google Friend Connect
12. Enter one of my other giveaways and leave me a comment letting me know that you did (current giveaways can be found along the side column)....ONE entry for EACH giveaway you enter!!
Please be sure to leave me a *separate* comment for each entry you complete above including with each, your e-mail address so that I can easily and accurately contact the winner!!
This giveaway will end
April 29th
and is open to the
US and Canada
!
**The products for this review and giveaway were provided at no cost by Jane Doiron of Make-Ahead Meals For Busy Moms. This was not a paid post and my honest opinions have been given**